The EB-5 Investor Visa: Everything You Need to Know
Is this option right for me?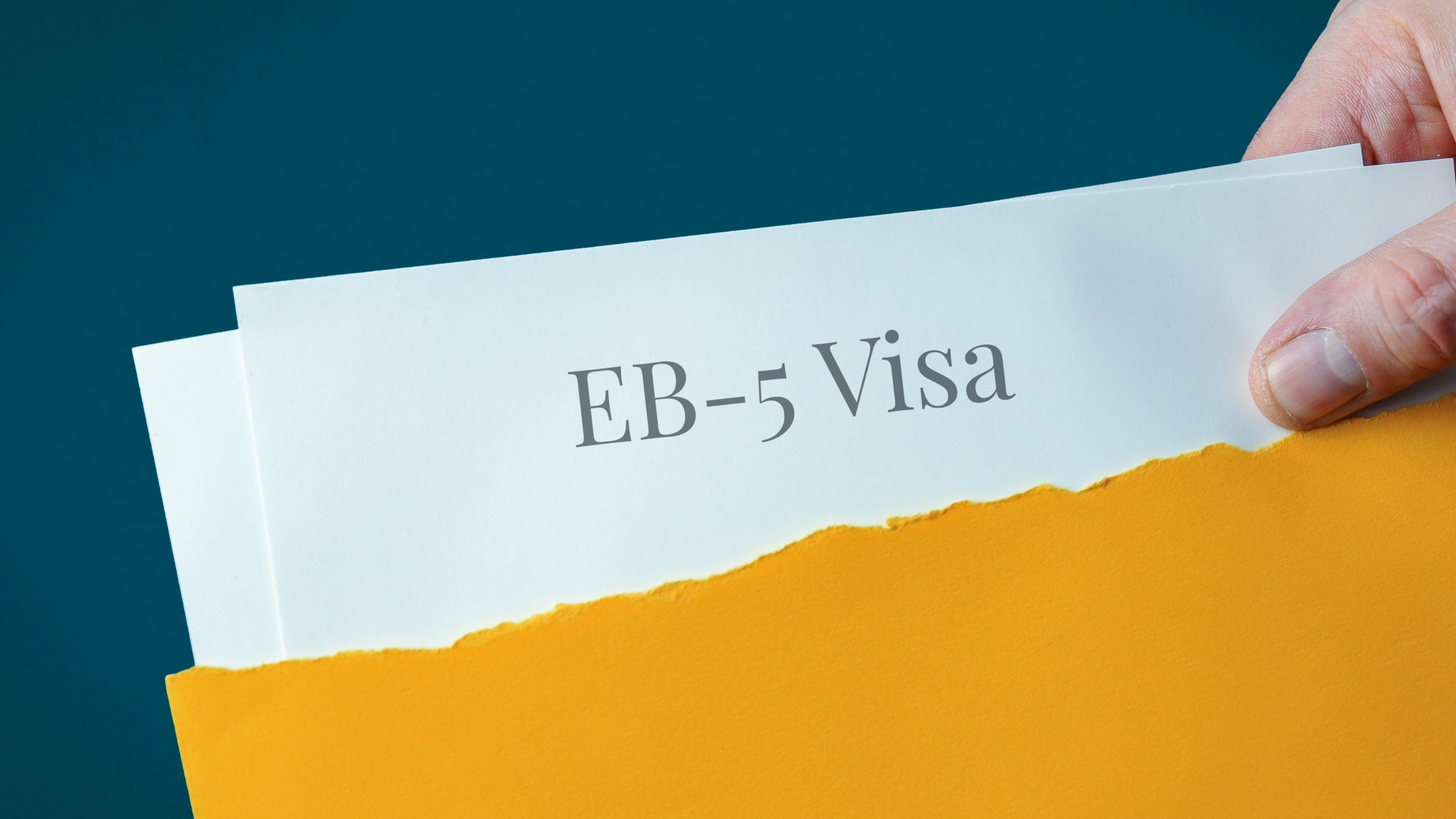 America is the land of opportunity. Free enterprise opportunities allow entrepreneurs, investors, and aspiring businesspeople to pursue their dreams. America's corporate landscape is a great place to start an enterprise of your very own or fortify an enterprise that already exists. 
The EB-5 visa allows people to bring their business plans to U.S. soil, where they can live, work, and grow. Here's what you need to know about getting and using an EB-5 visa.
What Is an EB-5 Visa?
An EB-5 visa is an immigrant investor visa created by congress in 1990. Qualifying investors who complete the EB-5 visa application process and receive approval become lawful permanent residents of the United States and receive green cards. 
EB-5 visa holders aren't expected to start businesses from the ground up. They can make a capital investment in existing American businesses or regional centers to become eligible for EB-5 visas.
Who Qualifies for EB-5 Visas?
EB-5 visas are immigration visas for foreign investors. Since they can lead to alien entrepreneurs becoming permanent residents of the USA, the requirements are somewhat strict. You'll need to meet and maintain the requirements for an EB-5 visa to be granted the visa and ultimately, receive your unconditional lawful permanent residence.
Making a Minimum Investment
EB-5 investor visa recipients must put at least $1,050,000 of investment capital in United States currency into a business or regional center (unless the business is in a targeted employment area or regional center-associated infrastructure project). 
You can use this money as a direct investment into your own EB-5 project, invest in a new business, or purchase an existing business staffed by U.S. workers. You can also invest the money into a regional center, where you'll work with other investors.
Fulfilling Employment Requirements
The business you own or invest in has to create at least 10 full-time jobs as a result of your investment. You'll need to have at least ten full-time employees working at the business once the business is operational or hire ten additional employees if the business is currently operational. 
A full-time job is a job that provides an employee with at least 35 work hours a week and fulfills other obligations for full-time employees as outlined by federal law.
Understanding the Terms of an EB-5 Visa
The EB-5 visa process uses specific terms to define its requirements. You need to understand what these terms mean to determine if you qualify and plan your immigration strategy.
What Is a Targeted Employment Area?
A targeted employment area (TEA) is a region of the United States where employment opportunities are scarce. Low-income areas benefit from new businesses that provide jobs and opportunities for the people who live there. 
Investors or entrepreneurs who want to establish their business in a targeted employment area only need to invest $800,000 into eligible communities, which is less than the required investment amount for other opportunities. 
Targeted employment areas are places that don't have large local economies. They usually have high unemployment rates. You're more likely to find a targeted employment area in need of investment in a rural area of the United States, further away from large cities where opportunities are plentiful. 
If your business idea will work in a rural region of the country, this may be a more feasible option for you.
What Is a New Commercial Enterprise?
Any commercial business established after the year 1990 is considered a new commercial enterprise. Commercial enterprises are businesses that operate for-profit. They have to sell a product or service. Real estate investments or non-profit organizations don't qualify as new commercial enterprises. 
Retail stores and stores that provide services (like salon services, auto mechanic shops, or restaurants) count as new commercial enterprises.

What Is an EB-5 Regional Center?
Regional centers are larger business centers or multifaceted businesses involved in promoting economic growth. These organizations often invest in development projects such as a resort, a theme park, or infrastructure projects. Not just any entity can operate as a regional center. USCIS must designate regional centers for participation in the Immigrant Investor Program.
Regional centers are large in scale, so they require large investments. Multiple EB-5 investors can work with the same regional center if the scope of the project allows for it. 
What Are the Advantages of an EB-5 Visa?
EB-5 visas are an excellent pathway into the United States for people who aspire to start or grow a business. They are also an excellent option for individuals who wish to obtain lawful permanent residence but do not have an employer or family member to sponsor them. The United States appreciates people who fortify American industry and bring jobs into the country. 
As long as you meet the conditional provisions of your EB-5 visa, you'll be able to enjoy the many privileges that come along with it.
The Ability to Become a Permanent Resident or Citizen
Many business-related visas are considered temporary visas, and work-related visas come with a lot of stipulations. EB-5 visas offer a direct path to a green card within a relatively short period of time. After you obtain your permanent resident status, you can work towards becoming a U.S. citizen. 
The Ability to Obtain Green Cards for Your Family Members
Since the EB-5 visa is an immigrant visa, you'll be able to use your position as a permanent resident to obtain green cards for your immediate family members. You can obtain permanent resident status for your spouse and your children, as long as your children are unmarried and under the age of 21. 
Your children will be able to pursue an education in America and attend American universities without a student visa once they have their green cards.
You Do Not Need a Sponsor
If you enter the United States to work for someone else, you are expected to work for the company. The company will create terms for your employment and outline your obligations to them. If you no longer feel like the position is a good fit for you, you may have difficulty obtaining naturalization y or remain in a job you dislike until your obligations have been fulfilled.
When you enter on an EB-5 visa, you're in business for yourself. Independent employment allows you to choose your own career trajectory. You won't owe anything to a company, and you aren't obligated to do what someone else wants you to do.
What Qualifies as an Investment for an EB-5 Visa?
Some investors choose to invest cash, and cash is much easier to work with. There are circumstances where you can invest in other ways. 
If you had a business in your home country that used equipment or inventory that a United States business would benefit from, you can invest the tangible assets instead. Items like manufacturing equipment, raw materials, technology, or a fleet of work vehicles are excellent examples of tangible assets.
As long as their value is equivalent to $1,050,000 (or $800,000 within the targeted employment area), you can use your assets as your investment.
How Does an EB-5 Investment Work?
EB-5 investments into American businesses cannot work like loans. There is no expectation that the business will repay you for your investment. There is always the risk that you will lose money on your investment and the potential that you will gain money on your investment. 
The funds you invest into the business must be actively used by the business. The business cannot hold onto your investment in a savings or reserve account. It must be pooled with the operating capital of the business and used to support the business. 
EB-5 investors cannot be passive. You need to be actively involved in the day-to-day activities of the business and maintain regular correspondence with other people involved in the business. You have to be making efforts with your time (as well as your money) to improve the enterprise's chances for success.
In short, EB-5 alien investors have to assume the risks that come along with investment. You're not afforded any special protections, and there's always the chance that you could lose your investment if the business fails. It's par for the course in the world of business investment. If you've invested in a business before, you're probably familiar with the risks involved. 
How Can Someone Obtain an EB-5 Visa?
If you believe that an EB-5 visa is the best immigration option for you, here's what you should know about starting the process and what to expect during the process. 
Begin Working with a Knowledgeable Immigration Lawyer
The EB-5 visa process can be complicated. Since EB-5 is an immigrant visa that involves a large minimum investment into a U.S. business, there's a lot to navigate. You'll need the help of a detail-oriented immigration lawyer to begin the process. 
Immigration lawyers within the United States will be able to help you throughout your immigration journey. They'll be able to guide you through the many steps of the EB-5 process and improve your chances of getting approved for the visa. 
There may be other immigration options more suited to your circumstances than an EB-5 investor visa. If another option would work better for you, a thorough immigration attorney will know.
Choose an Investment
Finding a suitable investment is the most important part of the EB-5 visa process. It isn't wise to choose a troubled business with little chance of success. While there's always the risk that you'll lose your investment, it's best to thoroughly investigate potential businesses and find one with the potential for growth.
An immigration attorney should be able to point you in the direction of a reputable investment broker or advisor who has experience working with EB-5 investments. Your immigration attorney can take the information provided by your investment broker and tell you which potential investments are allowed under your EB-5 visa.
Make Your Investment
You cannot promise to invest in a business after you move to the United States. You need to take action before you apply for your EB-5 visa. You can place the minimum investment amount in an escrow account that will be released to the commercial enterprise in the event that your case is approved by USCIS. 
Begin Your Visa Petition
You'll work with your immigration lawyer to file Form I-526, which is the petition for your EB-5 immigrant investor visa. You'll have to provide a lot of important supporting documents with your application. You'll need to know your net worth and prepare financial statements that show you can afford to make the minimum investment and still have enough money to support yourself. You also need to be able to show how you accumulated the funds for the investment.
You'll include proof of your pending investment with your visa petition. This shows USCIS that you're serious about your ability to invest and desire to invest in United States commercial enterprises. 
Travel to the United States
If your petition is approved, you'll be granted an EB-5 visa. An EB-5 visa is valid for six months. This means you'll have six months from the date you receive your visa to enter the United States. Once you enter the United States, you will become a conditional resident. 
If you have obligations in your home country, it's best to make arrangements while you're waiting for approval on your visa. When your visa is approved and you're able to travel, the steps you've taken to get your affairs in order will make it easier for you to travel to the U.S. within the six-month period. 
When your EB-5 visa is approved, you need to begin to fulfill the terms you agreed to when you applied for the visa. If you can't travel to the United States right away, you can remotely fulfill your obligations. You need to release the investment funds to the business and assume the role of an investor. If you are in the United States already, you may be able to apply for permanent residence through the adjustment of status process. 
Conditional Permanent Residency
After you enter the U.S., you will be granted conditional permanent residency. The conditional period of permanent residency lasts two years. During those two years, you'll need to uphold the stipulations of your EB-5 visa. You have to make your investment into a United States business and create at least 10 full-time employment opportunities. 
Wait At Least 21 Months and Apply To Remove the Conditions on Your Permanent Resident Status
You have 24 months to meet and maintain the conditions necessary for unconditional permanent residency through your EB-5 visa. If you've met all the required conditions within 24 months, you can file a Form I-829 from within the United States.
Immigration authorities will review your information to be sure you've completed your EB-5 requirements and abided by the terms of your conditional green card. If you have, they'll grant you unconditional permanent residency. This makes you the same as any other permanent resident immigrant in the United States and lifts the conditions of your EB-5 status. 
You don't need to continue to act as an investor to be eligible for naturalization. You're free to open your own business or change your investments. 
Petition for Family Members (If Applicable)
Your spouse and unmarried children under 21 can immigrate with you. If you have a spouse or eligible unmarried children living in your home country that did not immigrate with you, you can petition for them to become permanent residents of the United States in compliance with immigration law. 
Permanent residents are only allowed to petition for their immediate family members. You may also be able to petition for eligible stepchildren if you're married to their parent, even if you haven't legally adopted your stepchildren. 
Now Long Does The EB-5 Process Take?
Processing times depend on how you apply and the current backlog of applications. It often takes the United States more than a year to review and approve an initial EB-5 visa petition. After that petition is approved, you'll need to apply for your conditional permanent residency and eventually your unconditional permanent residency. From beginning to end, this process will take several years. 
The process will take even longer if your filings are incomplete or inaccurate. Since the EB-5 visa process requires substantially more paperwork than other types of immigrant visas, it's important to work with a compassionate and knowledgeable immigration attorney to complete the process and reduce the chances of delays or denial. 
The Cohen, Tucker & Ades Team are Immigration Experts
At Cohen, Tucker & Ades, we've been helping people legally immigrate to the United States for more than 40 years. Some of our team members are immigrants, giving them firsthand knowledge of the process and an unparalleled passion for helping people achieve their goals in America. If you're ready to file for an EB-5 investor visa, contact us to get started. 
Sources:
EB-5 Immigrant Investor Program | USCIS
Identifying Full-time Employees | Internal Revenue Service
Chapter 2 – Eb-5 Visa Program Eligibility Requirements | USCIS
I-526 | Immigrant Petition by Standalone Investor | USCIS
I-485, Application to Register Permanent Residence or Adjust Status | USCIS.gov