EAD: Your Guide To the Employment Authorization Document
What You Need to Know About Employment Authorization Documents?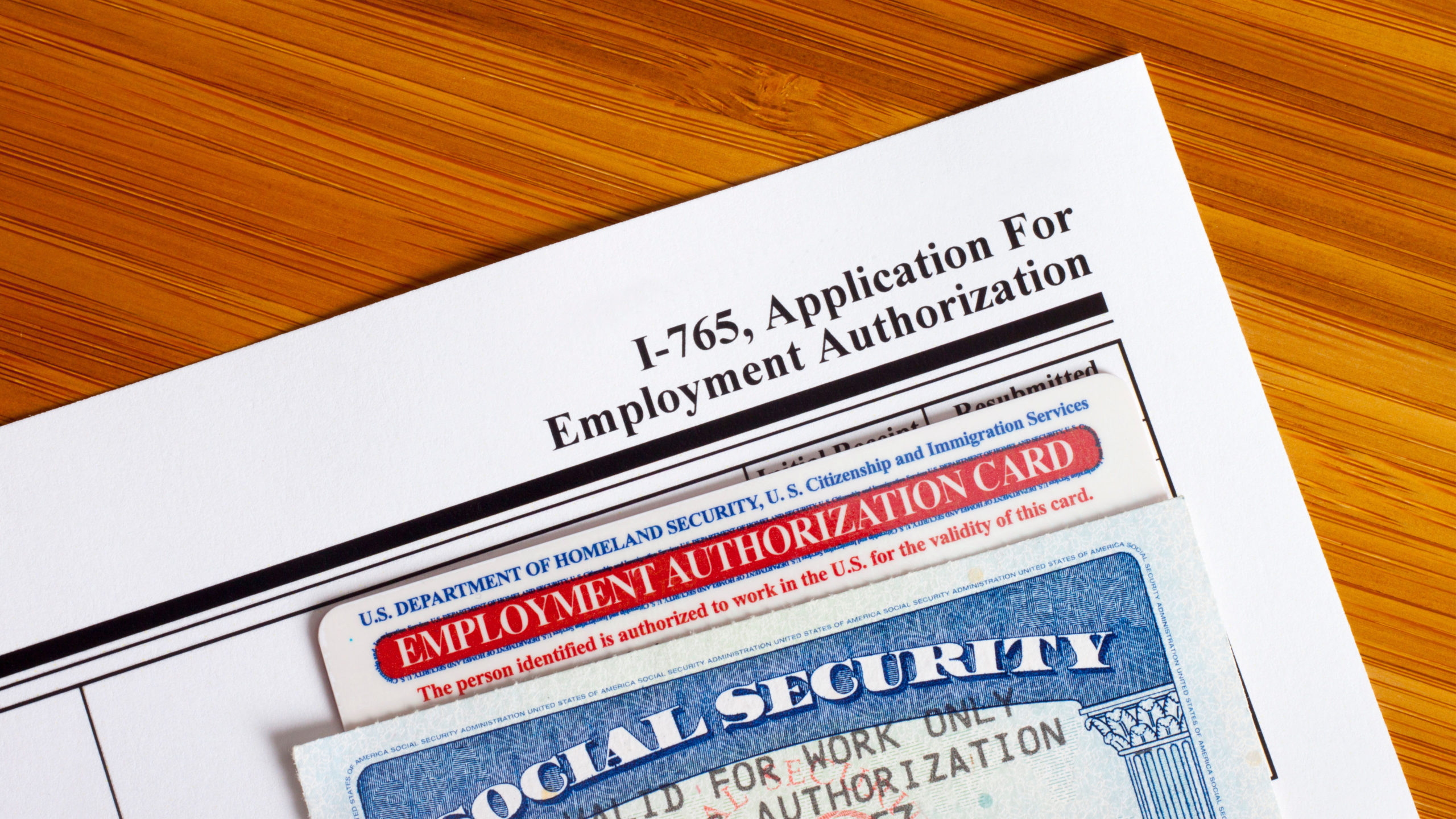 If you're an asylee, refugee, have certain nonimmigrant status, or a pending application and you are living in the United States, having a job or a career can help you integrate yourself within society. 
An important part of making your way and building your future is financial independence. With an Employment Authorization Document (EAD), you're allowed to work in the U.S.
What Is an EAD?
An Employment Authorization Document is an official identification card issued by U.S. Citizenship and Immigration Services that states that a foreign national can work in the United States. 
Employers are required to have a current EAD or other evidence of employment authorization on file for every employee who works for them. Employees can only work during the period when their EAD is valid, and in some instances, after expiration if renewal was requested before the document expires.
Not all foreign nationals are eligible for employment authorization. Eligibility varies by visa type, status, pending applications, etc. 
Can You Work Without an EAD?
Whether you can work without an EAD depends on your immigration status. 
Unless you're in the United States on an employment-based visa, you can't work without an EAD. Employers can face legal consequences for knowingly hiring workers who are not lawful permanent residents of the United States (green card holders) or who do not have EADs. You can also face consequences for working without the proper documents.
USCIS has a very broad definition of what constitutes work. Anything that makes a profit is considered a job, even if you might think of it as a hobby, baking cookies for parties or reselling vintage things you purchase at thrift stores both count as jobs, even if you're working completely alone or out of your home. You need an employment authorization card for small one-person businesses or independent contractor work.
Who Needs an EAD?
Employment Authorization Documents are necessary for most foreign nationals who enter the United States and want to get a job in the United States. 
If you have a nonimmigrant visa based on employment, you don't need an Employment Authorization Document. Your I-94 serves as your proof of the right to work in the United States, and your arrangements with your employer are officially on the record. You can work for as long as your nonimmigrant status is valid. In many cases, your employer can work with you to extend your work-related visa. In some circumstances, your employer can help you pursue a green card.
Family members who join nonimmigrants as a derivative beneficiaries to their employment visa may need an EAD to work. This includes spouses and qualifying children. Their visa status is nonimmigrant, but it doesn't necessarily afford them the right to work in the United States.
You need an EAD if you're in the United States with a visa that isn't related to work and you're waiting for your application for adjustment of status to be approved. Your EAD is no longer necessary once you've received your green card.
You do not need an EAD if you have a green card and social security card. Permanent resident status recognizes your ability to work, have a driver's license, pay taxes, and do many of the things that U.S. citizens can do. 
How Long Does It Take To Get an EAD?
USCIS processing times for documents can be unpredictable. EAD processing times have been severely delayed in the past. Some people waited as long as a full year to receive their EADs from U.S. Citizenship and Immigration Services. USCIS recognizes that this is a significant problem and that people cannot afford to wait as long as a year to have a predictable income that will allow them to survive in the United States. 
USCIS has worked to handle the backlog and change the way they process information. Now, most people can wait somewhere between three and six months to get an EAD. The unpredictability of processing times makes it extremely important that you file your EAD correctly the first time and that you file it as soon as possible.
What Does an EAD Cost?
The EAD filing fee is $410; some eligibility categories do not require a fee. Some applicants also need to attend a biometrics appointment, which costs $85. This brings the total cost of obtaining an EAD to $495. 
There are fee waivers, but most applicants won't be eligible. 
How To File an EAD Form
The EAD is applied for using Form I-765 Application for Employment Authorization. The easiest way to file your EAD is online, but not all eligibility categories can file online. It will reach USCIS the fastest. The form will redirect you to a secure payment processing portal that you can use to pay your fees at the same time you file. It's the easiest way to file your form, check its status, and make sure your payment has been accepted.
You can also file a paper application. This process takes longer. If you make any mistakes, provide incorrect information, forget to sign your form, or there is an error with processing your payment, you'll have to start the application process all over again. This can set you back several weeks in a process that already takes a long time. 
If you choose to file a paper application, it's very important to be sure that everything is correct. It may help to have an immigration attorney review your Form I-765 before you submit it. Once you've reviewed it for accuracy, you'll need to make sure you're sending it to the right address.
USCIS has a list of addresses for each category. Deferred Action for Childhood Arrivals (DACA) recipients, people with temporary protected status, and family members of work permit holders will all send their forms to different places.
You'll need to find the USCIS lockbox, service center, or address that corresponds with the basis you are filing under. If you send your form to the wrong address, they won't forward it to you. Make sure you understand the type of status you have or other grounds of eligibility for employment authorization. 
In some cases, you'll send your form to a different location based on where you live. A detail-oriented immigration attorney can help you if you're not sure you're sending your form to the right place.
How Long Is an EAD Valid?
An EAD is valid for up to two years from its issue date. This is the date your EAD was approved, not the date you received it in the mail. You have to apply to renew your EAD and receive it before your current EAD expires to prevent disruptions in your ability to work.
If you were granted an automatic extension for your EAD, the extension will last either 180 days or 540 days, depending on the basis for your renewal. Add those days to the expiration date and keep your automatic extension paperwork on hand. 
Can an EAD Be Expedited?
USCIS says that they consider every expedited request on a case-by-case basis. Most people with an EAD will have to wait their turn in line. They make exceptions for certain healthcare and childcare workers. 
There is a shortage of these workers in the United States, and expediting these applications assures that healthcare and childcare services can continue. The government may request supporting documents from your U.S. employer to verify the eligibility category you fit into.
If you don't work in healthcare or child care, you can still try to call USCIS and request that they expedite your form processing. However, there's no guarantee that they will. A lawyer may be able to help you explore your options if your situation is urgent.
Is There Premium Processing for Employment Authorization Documents?
Premium processing is a service that allows people to pay a fee and jump to the front of the line when they file their documents. The fee is usually substantial and is sometimes more than twice the cost of the basic filing fee. People who pay for premium processing can often expect a response from USCIS within a set number of days depending upon the type of application.
There are currently limited premium processing options for the EAD. Premium processing is currently available for some individuals applying for Optional Practical Training (OPT). USCIS is working to implement a plan where H4 EADs will be eligible for premium processing, but there is no official date for when premium processing will start. The only concrete information they've released is that they intend to roll out the program within the next few years.
USCIS Is Trying To Make EAD Processing Faster
USCIS understands that processing work permits is a time-sensitive task. If your work permit expires while you're waiting for a response, you'll lose your livelihood. They know that people have bills to pay and families to feed, and they're working to create a better system.
They're currently using a rule called "Temporary Increase of the Automatic Extension Period of Work Authorization and Documentation for Certain Renewal Applicants" to automatically extend work permits for some people who are still waiting on their documents to be manually reviewed and processed by USCIS.
This rule doesn't apply to everyone, and it's currently not permanent. USCIS appears to be working on a long-term version of the rule that will help clear out the EAD backlog and keep people working while they're waiting.
How Do I Renew My EAD?
When an EAD expires, you have to apply for a new one. It isn't a continuation of the same process. Your old EAD becomes invalid, and you need to go through the process from beginning to end. 
It's very important to start the process of getting a new EAD several months before your current EAD expires. If your EAD expires while you're still waiting on your new one, you can't work unless you qualify for an automatic extension. You need to be continuously covered by a valid EAD.
How Do I Get a Replacement EAD?
If USCIS made a mistake on your employment authorization documents, you don't have to pay for them to correct that mistake. For example, if they accidentally spelled your name wrong, it's up to them to fix it. You can submit the card with the error, an explanation of the error, and supporting documents to the address that issued your EAD card. 
If you lost your EAD or if the error is a result of a mistake you made, you need to apply for a new EAD. You'll start the process over from the very beginning, including payment of the filing fee. If you have a card with an error, you'll have to submit the card with your application. If your card is lost or significantly damaged, you don't have to send USCIS proof.
Do You Need Help With Your EAD?
The Cohen, Tucker & Ades team has helped immigrants live, work, and thrive in the United States for over 40 years. If you need help with an issue related to your work permit or your eligibility to work in the United States, contact us. We'll review the specifics of your situation and advise you of your best options. 
We can also help you file the forms and organize the documents you need to apply for work permits or work-related visas. 
Sources:
Direct Filing Addresses for Form I-765, Application for Employment Authorization | USCIS
4.4 Automatic Extensions of Employment Authorization and/or Employment Authorization Documents (EADs) in Certain Circumstances | USCIS.